Raised Access Flooring in San Jose, CA
RFI Inc. is your local expert on raised access flooring, assisting businesses that house processing computer rooms and data centers. We consult with customers, recommend flooring, facilitate installations and more. We also sell high-quality raised flooring and raised floor kits direct to you! Contact us today for more information.
Raised Floor Panels, Done Right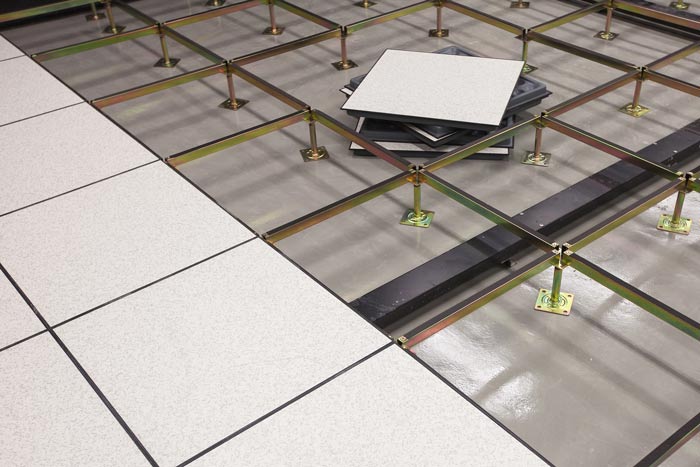 To protect your data cabling and ensure the full versatility of your space, there's no better solution than raised floor systems in San Jose, Santa Clara, Silicon Valley, and Milpitas, CA. Raised flooring enables all manner of cords, cables and wiring to be hidden conveniently beneath your feet, easily accessed for repairs and modifications by simply lifting the tiles! Raised flooring also has flooring with perforations, to allow for cooler data centers! We offer a variety of options including Air Grate Aluminum Panels, Air Grate Steel Panels, and Perforated Steel Panels. RFI Inc is here to help you reap the benefits of raised flooring by providing products and raised floor installation solutions that are optimal for your space. We're the premier supplier, installer, modification expert and consultant for your investment in raised access flooring.
Raised floor panels in San Jose, CA are optimal for a wide range of settings. Whether you're operating a data center that serves tens of thousands with digital storage, or you're running a multimillion-dollar company's servers, raised flooring is the ideal way to finish a space without compromising its integrity, organization or navigability. Our floors are strong, durable and safe, ensuring all of the vital components below them are preserved to the fullest. And, because they're more affordable then other approaches to cable management and space design, more and more businesses are choosing raised access flooring for their facilities. Take a look at just a few more reasons to call RFI Inc when you make the decision to invest in raised floor kits:
Our company is backed by over 30 years of professional experience.
We can tailor our products and installation services around your unique space.
We've sold and installed millions of square feet of raised flooring products!
We sell raised flooring direct to customers, offering a wide range of top-name brands.
We serve businesses throughout San Jose and the surrounding 100 miles.
We are a subcontracting firm & We work with General Contractor
Your go-to company for raised floor kits, serving San Jose CA and surrounding areas, such as:
Palo Alto, CA
Silicon Valley, CA
San Mateo, CA
San Francisco, CA
Monterey, CA
Napa, CA
Stockton, CA
Vallejo, CA
Get a Quote on Raised Flooring
Contact us today for a free quote on raised floor kits for your business and to learn more about how we can assist you with customization and installation.
Contact Us
---
WE OFFER NEW AND USED RAISED FLOOR PANELS
Refurbished and Pre-Owned Raised Floor Panels are a cost-effective alternative to New Raised Floor Panels.